Each website on the internet is 'hosted' or 'stored' on a server. In this way, the becomes visible to every user. So, when an individual writes a URL of any website in the browser, it uses that specific address to identify to access the website. The browser then asks the server for details about the webpages. The server sends all of the relevant information, and the browser displays the web page. The user can then engage with the website by moving to different pages, tapping on links, sending emails, filling forms, and so on. Here is when you will hear about the term "Shared Hosting".
Shared Hosting is the most prevalent and widely used type of Web hosting. This service is offered by web hosting service companies, which normally have many on-site web servers.
On a shared hosting server, your account/website/software are mixed together with other users. You save cost since you pay a fair price per user since other customers are also buying the server and dividing the costs.
One disadvantage is that resources are finite, and actions taken by other companies might have an impact on you as well. For example, if one user infects the server with a virus, it puts more users at risk. Also, users can't completely control server operations here. So, there must be a service provider who can supply you with tweaking features. As a result, shared servers have real disadvantages, however, they are more cost-effective.
In a nutshell, shared web hosting basically means that multiple users from various businesses access the same server. 
Here's How Does Shared Hosting Actually Work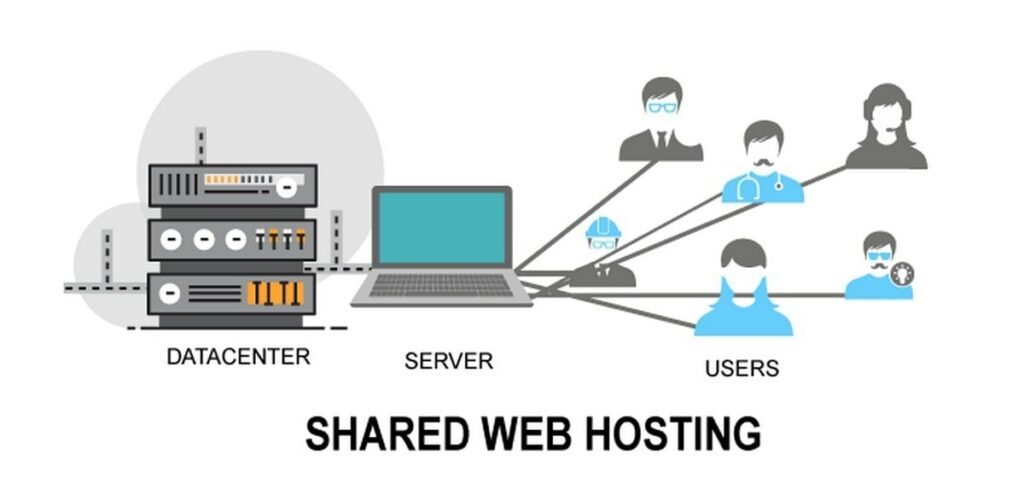 As previously stated, shared hosting refers to the VPS hosting of several websites on a single server. Based on available storage space, RAM, and processor speed, the quantities can range from hundreds to thousands. This hosting is provided on a computer that is equivalent to a dedicated server however with a significantly larger number of users. 
The files and apps of every website user account are kept on the server in distinct partitions, each with its own file folder. Users have no access to the root directory or to other users' files. The web server's computer resources are shared by all users on the shared server.
What Should you Search for in Shared Hosting?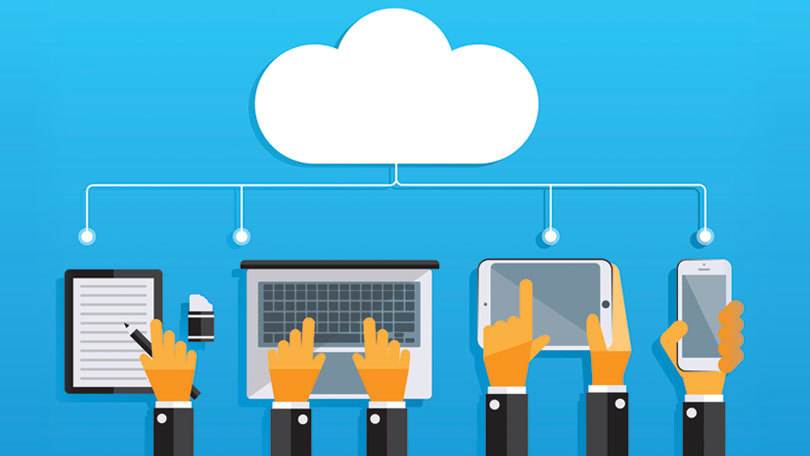 Now, you know what does shared hosting means. Let's look at how to choose a decent hosting services provider. Since it has a significant impact on your data security, website traffic, and performance. The following are amongst the elements to look into:
Storage space – The volume of physical disc space allotted to you for storing files, databases, and other media. It all relies on your website size.
Bandwidth – The maximum amount of data that your website visitors can upload or download from it. If you go over this limit, you may have to pay additional fees on top of your plan rates. Although many hosts give unlimited bandwidth, the data transfer speed can be slowed if the right hardware isn't present.
Uptime – Visitors must be able to access your website at all times. The majority of service providers offer 99 percent uptime, however, you should seek 99.9% or higher. You can confirm it with uptime monitoring.
Customer Support – It may potentially be at the top of a list, particularly if you're a newbie to hosting and don't have a lot of technical knowledge. Most providers nowadays provide 24*7 help. 
Security – Your information must be kept safe and secure. Security features are frequently excluded from low-cost hosting services.
Simple to Use Dashboard – It's more comfortable if the control panel lets you perform the majority of operations via a user-friendly interface. eCommerce capabilities and Pre-installed apps are also appealing. Examine the dashboard to determine whether it offers the necessary apps for your website.
Programming Language and Database – The server should support programming languages (PHP) and databases (MySQL). It will help you easily upgrade to the latest technology or modify languages afterward.
Domain Name – Some hosting companies additionally provide domain name registration as an add-on option. This is useful if you are setting up or running your website from a single location.
It's also crucial to look ahead a little, predict your website's development, and check if your website hosting company can keep up with it.
Shared Hosting Pros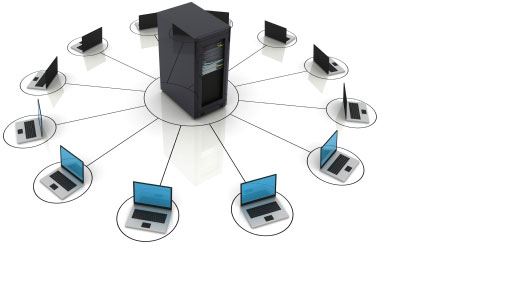 Choosing shared hosting has a number of advantages. Let's look at some of the basic aspects of shared web hosting:
It is Less Costly
Shared hosting offers a cost-effective hosting option. The hosting company's charges are split among many people who contribute to the server's fees. Basic contracts start at roughly $30 annually, while premium options with unlimited disc space, bandwidth, and websites can cost over $100 annually.
It's Flexible
New online businesses can start with a shared plan and easily update as their company expands.
Easy to Manage
Setting up shared hosting is quick and straightforward. Most hosting companies give a control panel that is used to administer your website. The administrative tasks, as well as monitoring server-related responsibilities, are managed via a simplified user interface.
Users can Conveniently Host Multiple Domains
You may easily install as many websites as you like in the user directory. Just confirm that the domains you buy are attached to it. For example, one individual has separate domains for their personal website, business, or hobbyist blog. This is where shared hosting comes in ideal.
It's Managed Professionally
Shared hosting is a less maintenance option. By handling basic server management responsibilities, your host will relieve you of the burden of maintaining your server. Unless you are willing to handle your own server Web management is an efficient solution.
Entrust your web hosting to the experts. Using Shared hosting, you can expect technical support from professionals for anything from maintenance and hardware upgrades to network outages, DDoS attacks, and software updates, etc.
Host Dynamic Websites
Dynamic websites change their appearance depending on who is browsing them. Quora, Twitter, and Facebook are prominent dynamic websites, and Joomla and WordPress are some DCMs. Other programming languages like Python, PHP, and can operate on a shared hosting server, are used in CMSs and dynamic web pages.
Secure
Although the server's space and resources are shared, however, your data is not.  Other websites that are using your shared server can't access your data. Furthermore, some web hosting providers offer additional security features that protect your website/apps/software from cyber security risks.
Straightforward Setup
On a shared hosting server, you can easily set up your website. Shared hosting is typically designed to help those who have the less technical knowledge and want to increase their traffic.
Effortless Maintenance
Because your web host provider handles the shared server, you can simply concentrate on building your platform instead of fixing faults or implementing software updates. That's something the expert technical assistants should handle.
Shared Hosting Cons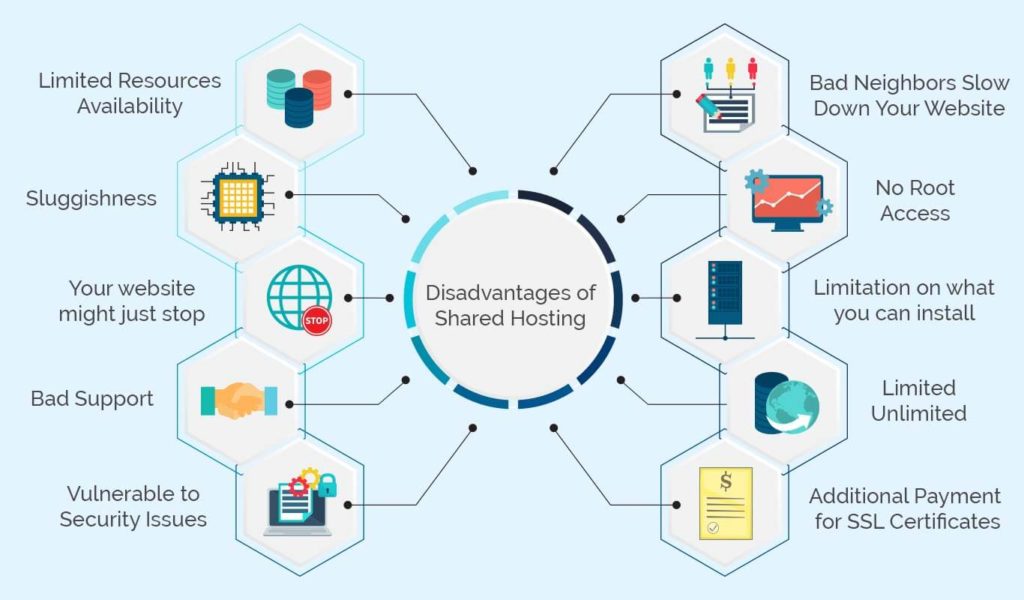 Despite its low cost and ease of use, shared hosting also has a few drawbacks to consider. The less cost and ease of shared hosting appeals to many people, but the following circumstances can also arise:  
Possible Slowdowns
As previously stated, shared hosting refers to the sharing of resources such as memory CPU power. As a result, a surge in traffic will make your website go slow. Mostly, we barely notice speed changes.
Potential Risks
Since shared servers host several websites, there is a possibility of security breaches. A reputable server host, therefore, needs to incorporate security elements such as SSL certificates to combat this.
Limited Customization
Shared servers' backend is usually closed down to maintain security. This means you're confined to the programs that are offered by the hosting firm. 
Try to skip shared hosting if you need some particular technical requirements, such as hosting a different operating system. This is definitely a plus point for those who are less tech-savvy because it means that the tools you want are offered in a simple interface and the server host is taking care of the server maintenance.
Is Shared Web Hosting a Better Choice For You?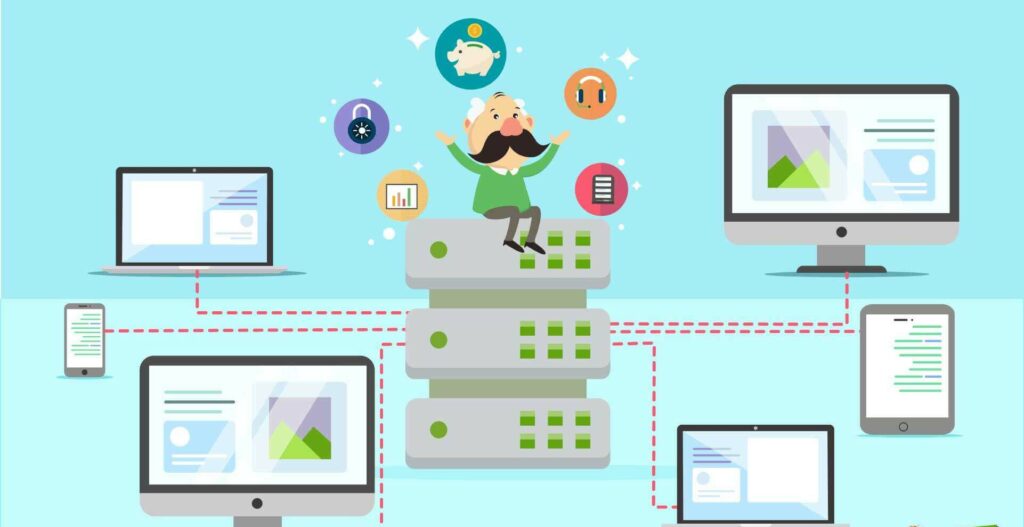 Shared web hosting has become a popular hosting option, with thousands of web hosting businesses offering it. Since most people are buying the services plans are fresh to online technologies and don't realize what to search for when finding the right hosting package, we have compiled the pointers to inform you how to decide if you need shared web hosting.
Shared Hosting is Ideal for People and Businesses Who:
Wants to save money.

Has only a minimal understanding of web hosting.

For small enterprises or individual use.

Want easy to manage the website.

Are curious about coding, site design, and WordPress.

Personal sites and user-friendly hosting.

Blogs

Small business sites

Portfolios

Database-driven sites
Skip Shared Web Hosting If:
Software uptime matters.

The application utilizes unlimited bandwidth.

If you want entire control over the server.
Frequently Asked Questions
How are Web Hostings Categorized?
We know that all websites are somehow different, so they need different servers. Many websites utilize a single server and some websites use other servers. Web hosting comes in four main varieties:
VPS hosting (virtual private server)

Shared hosting

Cloud hosting

Dedicated hosting
Who is Shared Web Hosting For?
For newbies and micro websites, shared hosting is an excellent option. It's affordable and doesn't require high technological know-how to initiate. 
For websites with a limited budget, we would consider using shared web hosting. Writers and small company owners with small websites are ideal shared hosting candidates. 
What are Some Pros and Cons of Shared Hosting?
Shared Hosting Pros:
No requirement for technical knowledge.

Easy setup.

Most cost-effective web hosting.

Great for small websites and beginners.
Shared Hosting Cons:
Slower loading times.

You have no control over performance issues.

Lower uptime rates.

Server resources have to be shared with others.

Not scalable.
Is Shared Hosting Safe?
Yes, no doubt that the server's space and resources are shared, however, your data is not. All websites that are using your shared server can't access your data. Furthermore, some web hosting providers offer additional security features that protect your website/apps/software from any cyber security risk and theft.
Final Words
The server you pick has an effect on your website's efficiency, safety, flexibility, and management level. To help you clear your doubts, the post contains each and every detail about Shared Hostings.
We have completed our own in-depth research to assist you in selecting the best hosting service for your needs. From web hosting definition, features, advantages, disadvantages, and prices, you will get all elements to make a wise decision.
This post hopefully gave you a thorough understanding of what is shared hosting and other related aspects. We appreciate your valuable opinions and thoughts down below.